De
Nacht-loerrrders
A light art installation for the
Amsterdam Light Festival #8 Theme 'Disrupt!'.
Creative Direction, Design & Workshops.
Meet Disco Juan, Foxephant, Slurk and Purple Ghost. These Nachtloerrrders (Nightlurkers) are imagined nocturnal animal eyes created in collaboration with over 900 Amsterdam school children. Their strange, unsettling nature hints at a possible future evolution.
Light art is accessible, especially during these public events, as light is fundamentally beautiful and attractive to humans of all ages. It is inspiring to people who may not seek out art events naturally as they can be intimidating.

As the technology advances the results can become more impressive, economical, and environmentally cleaner. We hope this means in the future there is more light art in the world to see, so we can learn to discuss abstract ideas together.

The idea of children releasing their Nachtloerrrder concepts into the world made the art so much more valuable and disruptive. The personalities shown in the movements and colours of the nocturnal eyes would not be so diverse without them.
For this reason the development of the workshops and the Scratch program that allowed them to digitise and animate the animal eyes was very intensive. We even created a complimentary workbook to guide the children through the project.
Each child attended three workshops to create their artwork. The first, an introduction to light art and the festival.
The second backgrounded the science of nocturnal animals and evolution, and ended in the creative concepting of their own evolved animal.
The final workshop was a programming and animation workshop developed by the team using Scratch.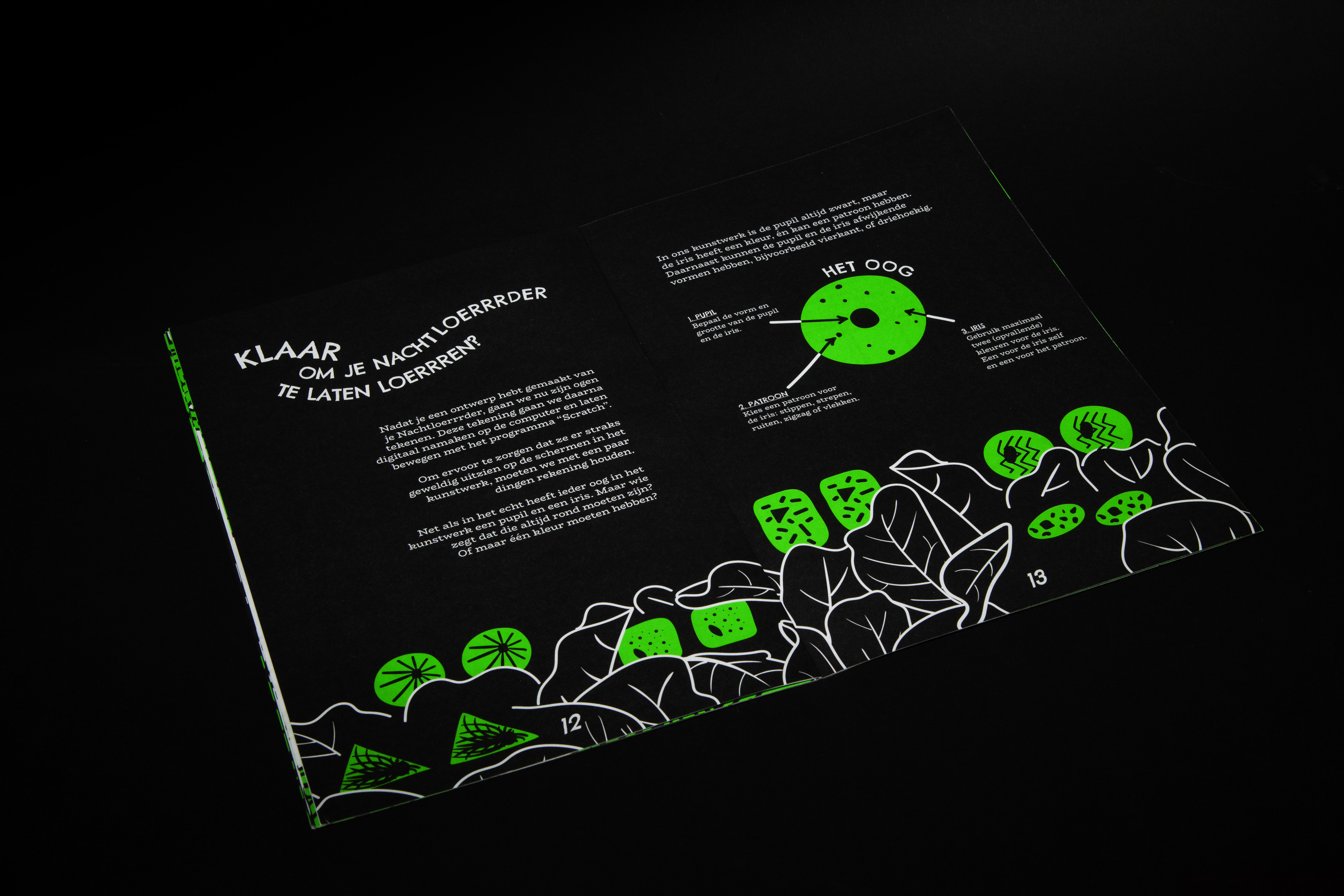 When all the workshops were completed in January, over two hours of Nachtloerrrders were added to the sequence. The sequencing of their appearance was designed to be disruptive. They appeared across the installations randomly so you had to keep your wits about you to spot the next eyes appearing, just like trying to spot nocturnal animals in the wild.