Samsung
'Sport doesn't care,
What's your problem?'
a campaign promoting the
Samsung sponsored
Winter Paralympics.
Sport is the great leveler and this was the insight for the 'Sport Doesn't Care' campaign. Abled and other-abled athletes are exactly the same when it comes to competing. Paralympic athletes don't go to the Games because they want to make a statement about their disability; they go because they want to win a medal. And on the way they have to train hard and overcome the same problems that all athletes encounter when training.



Another film in the series explores the message from the perspective of Keira, a young athlete aiming to inspire people of any age and ability to get involved with sport. We weren't initially going to make a stand alone film for Keira, but we were just dazzled by her attitude and charisma. Fun fact, she actually can ski very well and was so bored on the easy slopes we had to take her on a black diamond slope to get her 'whoop' moment.



"Conversations around the Paralympic Games tend to focus on disability over athleticism," explains Younghee Lee, Executive Vice President of Global Marketing at Samsung Electronics. "As a brand with a passion for sport, Samsung aims to make the dialogue more empowering, focusing on the courage and performance of athletes and encouraging participation. We believe this campaign will inspire more people to become engaged and involved in the Paralympic Games."



Katarzyna's film was inspired by interviews that we had with her as we were developing the main script. She had just given birth and her baby was three weeks old when we first talked on the phone, but she was still training. We liked that she has lots of facets as a woman, mother and triathlete and it deserved to be told in her manifesto film, where we just see her in one shot being a badass at all three.

It was great to have the freedom to tell more stories than were initially briefed, just because of contact with interesting athletes.

The stories were so inspiring we created a commemorative broadsheet with quotes from the athletes and featured actors about their approach to competing to win.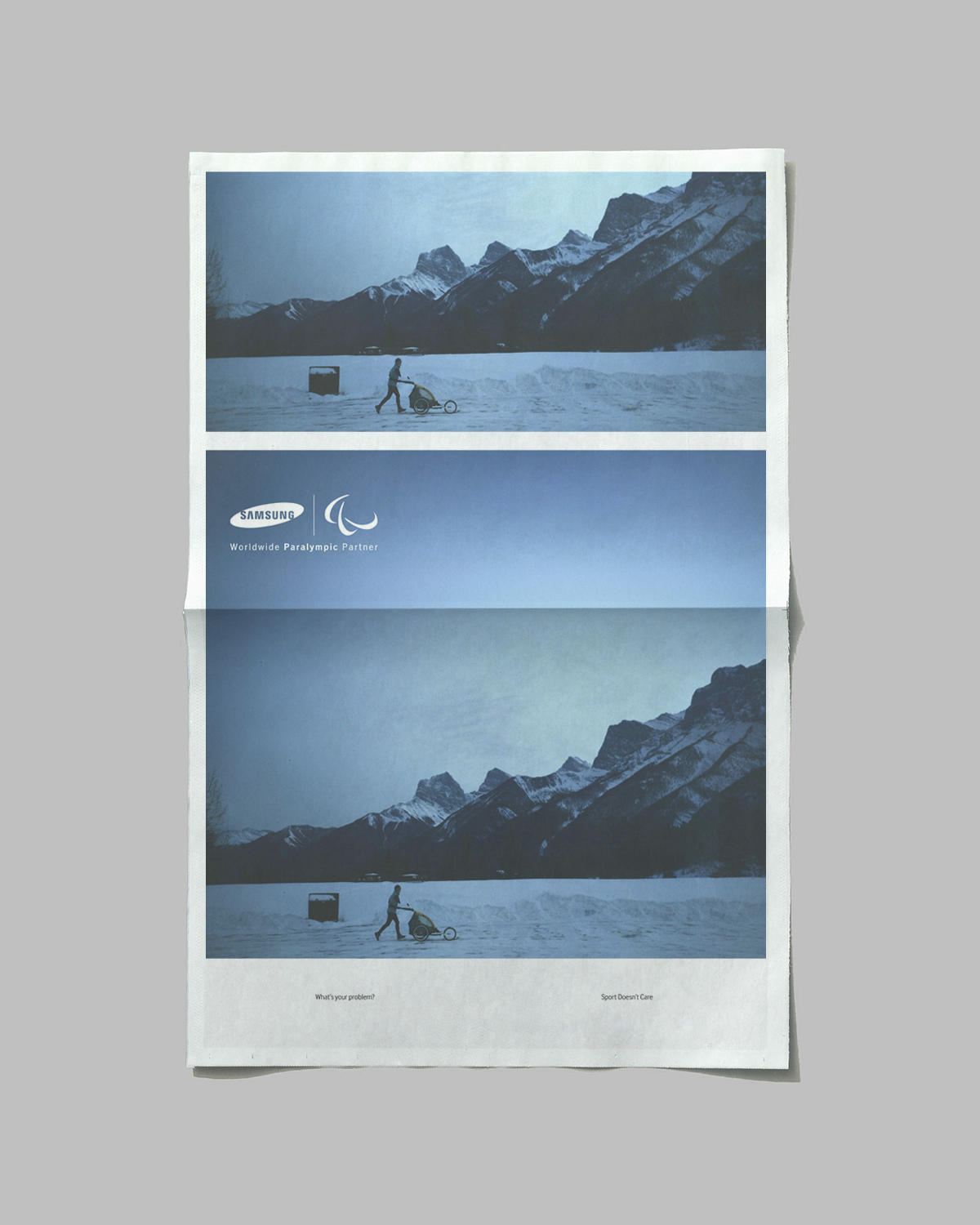 Athletes featured include:
Katarzyna Rogowiec
Cross-country skiing and biathlon – Poland
Anna Schaffelhuber
Alpine skiing – Germany
Evan Strong
Snowboard cross – United States
Jessica Gallagher
Alpine skiing – Australia
Greg Westlake
Ice sledge hockey – Canada
Seung-Hwan Jung
Ice sledge hockey – Korea